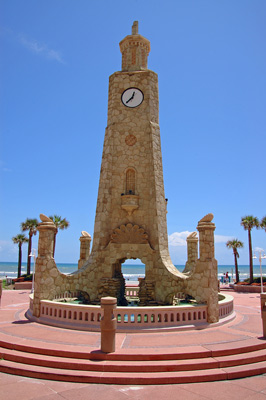 Daytona  Beach Homes Offer Style and Variety
There are many different styles of homes for sale in Daytona Beach, Florida. Ranging from one and two bedroom starter homes on the mainland and beachside to massive luxury homes on the river or ocean.  The area even offers secluded homes on acreage away from the hustle and bustle of the everyday grind.  With the Daytona Beach area you get a laid back atmosphere with all the amenities, but none of the drawbacks of big city living.  Prices have dipped in recent years following an unprecedented boom, making this the perfect time to make the move.
Starter homes, bungalows, and cottages in Daytona Beach and the surrounding areas are affordable and can be found in a number of areas from suburban neighborhoods to quiet streets on the beachside.  From fixer uppers to new homes, the choices are nearly endless.  Given your specific needs, the perfect first home in Daytona Beach is waiting for you.
Beyond the starter homes, there are many luxury homes in Daytona Beach in many different locations.  Gated and golf course communities on the mainland offer fantastic amenities and quick access to shopping and local schools.  Daytona Beach is a growing community with new businesses and opportunities arising everyday, all while maintaining a small town
feel.  The luxury lifestyle can be found here for a fraction of the cost of other areas of Florida.
If waterfront homes are what you are looking for, then look no further.  With an abundance of options available you'll marvel at the oceanfront homes for sale in Daytona Beach. From Ormond by the Sea in the north, to Ponce Inlet in the south, the Datyona Beach area offers a variety of ocean front homes that range from luxurious mansions to studio living
in large oceanfront buildings.
Like the water, but don't want the salt, sand, or expense of being directly on the ocean?  There are numerous riverfront homes in Daytona Beach, as well.  Interspersed with parks, restuarants, marinas, and other attractions, you'll find the Intracoastal Waterway, or Halifax River in the Daytona Beach area, offers a great view at a more friendly cost than the
ocean front properties.
Where ever you are in the Daytona Beach area you are never far from the water.  Maybe it's time for you to come check out all we have to offer for yourself in the greater Daytona Beach Area?
The greater Daytona Beach area includes Daytona Beach, Daytona Beach Shores, South Daytona, Holly Hill, Ormond Beach, Port Orange, and Ponce Inlet.
See other Area Homes for Sale