Daytona Real Estate Sales Up in May 2010
A 1.6% increase may not seem like much. That's what we saw in May over April sales. That's not the news. The news is that we are up 23.5% year over year when we compare May of this year against last year. Local Daytona Beach home sales gains over 2009 are holding.
For the first five month of 2010 sales are up 30.4% over 2009. We've sold 428 more homes and condos than during the same period last year. That's the important trend. Even if sales were to stay steady, or even decline slightly, on a month to month basis, the market has regained a lot of its strength lost during 2007 and 2008.
The composition of sales however has changed radically. Most home sales are still occurring in the under $200,000 price range. Take a look at the chart below and you will see how sales under $200,000 dominate the market.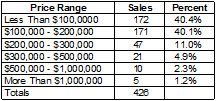 80.5% of sales in May were under $200,000. Add the 11% of sales between $200,000 and $300,000 and the total rises to 91.5%. Only 36 of the 426 homes and condos sold were sold for over $300,000. This is a trend that we have seen for over two years and is still increasing slightly. In April, 90.4% of sales were under $300,000.
What Do May Numbers Mean?
First, with sales under $200,000 dominating the market at 90.5% of all sales, homes and condos in this price range are going to sell faster for sellers. For buyers, homes in the this price range that are priced right, will have more competition with other buyers. It's not unusual for an aggressively priced bank-owned foreclosure property under $200,000 to have multiple offers and a bit of a bidding war.
Second, more expensive homes and condos have significantly lower sales and less competition. Homes and condos over $300,000 must jump out as a significant value. The listing price must be backed up by value. An attractive, properly priced listing in any price range must have its value showcased and made clear to prospective buyers.
Three Factors to Watch
We see three factors to watch closely this year to time your home purchase:
Home Prices
Mortgage Rates
Inflation
It's rising prices you need to be watching. No, we are not seeing rising prices yet, but it will happen. Some markets are recovering in price, but not sales. We have recovered in sales, but not price. When prices of Ormond Beach homes for sale and other area homes start to rise, we expect a mini-boom if people panic about getting what they see as a once in a lifetime bargain.
Mortgage rates and inflation are tied together. Watch both because if you are financing, it can cost you a lot. A big jump in inflation rates will boost mortgage rates. Here's what happens:
Monthly Payment for a $200,000 mortgage at 5.14% = $1,090.82
Monthly Payment for a $200,000 mortgage at 5.44% = $1,128.06
Monthly Payment for a $200,000 mortgage at 6.00% = $1,199.10
Monthly Payment for a $200,000 mortgage at 6.5% = $1,264.14
Rates going from 5.14% to 6.5% is not unrealistic. Remember 1980s Interest Rates.
Is Now the Right Time to Buy?
We think it's a good time to buy, but don't take our word. Look at the 426 people who bought homes and condos in May. 1835 votes were cast by buyers so far this year, 30.4% more than last year and 57.1% more than in 2008. The people who vote with their money are the people we watch.
We are concerned about inflation. We believe there will be higher inflation to pay for record government spending and borrowing. It's a matter of when, not if. If you are financing and qualify now, consider the value of having a 5% mortgage rate if rates go to 7, 8 or 9%.
Please give me a call at 386-566-7503 to discuss the market and your options.