Sales of Daytona Beach Homes and Condos Up Again
And so it continues. Sales of Daytona Beach homes and condos were up 46.2% over last June and 12.9% over May.  Total sales for the first half of 2010 are up 33.4% over the first half of 2009. The uptrend continues, but…
There is a lot of speculation that sales have been driven by the Homebuyers Tax Credit. The date to close has been extended (see: Congress Approves Homebuyer Tax Credit Closing Extension for more). We won't argue with that, however…
Daytona Beach area real estate is different than most other places in the country. To put it simply, most of our sales are driven from out of town money and buyers of second, rental and vacation homes. Those buyers are not eligible for the tax credit, so the affect of the credit is not as significant in Daytona Beach. See our article The Current Daytona Beach Homes Market in 142 Words for more details.
We will know the effects of the expiration of the homebuyers tax credit in July numbers. July and August are traditionally strong sales months in area, so if sales drop in the next couple of months, we might be able to say that the tax credit expiration was one of the causes.
The major trend continues…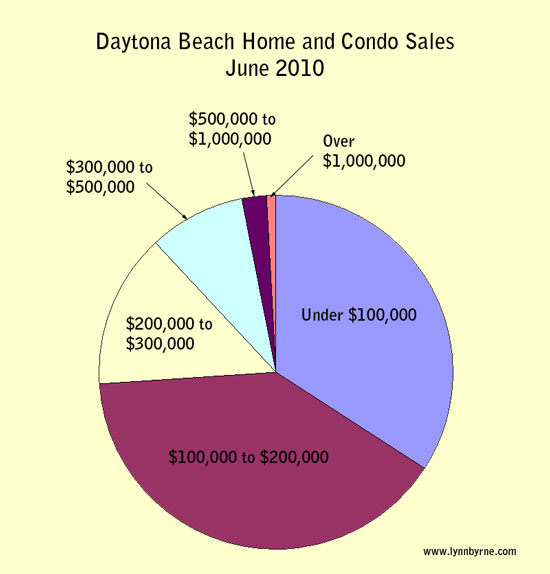 The chart shows that 74% of all sales of homes and condos were under $200,000 and 88.1% were under $300,000. However, this is the first time in a long time that sales of properties over $300,000 were over 10%. At 11.9% of sales, this may be a signal that homes in higher price ranges may be becoming more attractive to buyers. One month does not make a trend, but this will bear watching.
If sales over $300,000 start to improve, that will add more strength to our market.
We are still receiving a lot of inquiries from this website, so activity does not seem to be declining at all. Most of our sales are from short sales and foreclosures. If you need more information, or just want to discuss the market and your options, please call me at 386-566-7503.