Sales of Daytona Beach Homes and Condos Up 35%
Daytona Beach homes and condos continued their sales increase in April moving 35% higher than last April and increasing 6.9% over last month. April's 420 properties sold is the highest level since the market dropped in 2006. For the year, sales are up 32.7% over the first four months of 2009.
Looking at the chart below, the sales trend we've seen over the past few year continues with 78.6% of all sales in the under $200,000 price range. Sales under $300,000 encompassed 91.7% of all sales in April.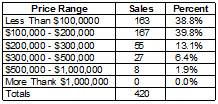 Sales in March were 393 homes and condos. Last April's sales were recorded at 311 properties. To add a little perspective, sales in April 2007 were 270 properties and April 2008 recorded 277 sales.
What's Next
There's no doubt that sales have increased over the past 16 months. There was concern that when the Federal Reserve stopped buying Mortgage Backed Securities at the end of March that sales would be impacted. That didn't happen. Mortgage rates are up only a bit from where they were before the Feds action. So, we didn't see a major impact.
Next, the First Time Home Buyers Tax Credit expired for new contracts on April 30th. Service members and some other overseas government workers have another year to take advantage of the credit. We believe the impact of the expiration will be minimal on sales. In the Daytona, Ormond Beach, Port Orange area, we see people taking advantage of the tremendous values available. We believe more people will take advantage over the coming months.
That being said, we will look to May to give us another indicator. May sales were higher than April sales over the past three years. If that happens again this year, or sales levels are close, we can say that the expiration of the tax credit had little to no effect.
Note: Sales reported in this post are from the Daytona Beach MLS which covers Daytona Beach, Ormond Beach, Port Orange, Ponce Inlet and surrounding communities. You can search the local MLS by going to our Daytona Beach Real Estate Search Page.